Description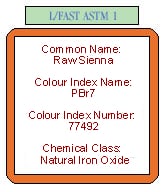 Used by artists from the early cave painter to the present day Raw Sienna is a native earth mined at many locations. Named after a particularly fine variety once produced at Sienna, Tuscany.

An excellent glazing color, the better qualities being very transparent. Gives a golden tan when well diluted. Raw Sienna takes on a very labored appearance in heavy applications. Fairly good tinting strength.

Absolutely lightfast with an ASTM rating if 1 in all our media. The crude 'Raw Sienna' used by the cave painter will not have changed in color to this very day. Non-metallic preservatives.