Description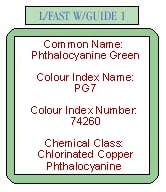 Phthalocyanine green is a particularly transparent paint giving very clear thin layers. May bronze slightly if applied heavily. Rated ASTM 1 (excellent) in oils, acrylics, watercolor and gouache.

Pigment Green 36 extends the range of the Phthalocyanine greens. Pigment Green 7 (another Phthalocyanine Green) is a bluish – green whereas PG36 varies from a mid-green to a yellow-green.

Phthalocyanne Green is very powerful and has to be handled with some care as it will quickly influence most other colours in a mix. Non-metallic preservatives.